Laser Applications Lab – Laser Materials Testing Specific to your Laser Application
So……You have an idea about using a laser for solving a processing problem. Excellent! We are glad you found us and heres why.  NLC Laser has performed literally thousands of material studies over the years in our Laser Applications Lab. These tests have included cutting, drilling, sealing, welding, scoring, degating, etching and more. It is highly likely we can very quickly determine if laser processing is a good fit for your material.
Our Laser Applications Lab
We have two laser applications labs, both fitted with NLC 180 watt CO2 Lasers.  They are supported by a wide array of optics, motion systems, fixtures, hardware and an in house machine shop to meet any need. When we complete a laser lab study the goal is to prove feasibility as it applies to your production needs. It simply is not good enough to know that we can process your material. Can we process it at adequate speeds? Are the finished cosmetic results what you need and expect? Can we consistently hold the tolerances you require? Will there need to be pre or post operations to the material? We make every effort to ask all the questions upfront so when we start the study we understand your end goals.
Performing the Laser Applications Study
Once we have received your material we evaluate fixturing needs to present the material to the laser. If it requires a special design and fabrication effort we will consult with you before proceeding. In most cases we have tooling that will do the job. Once completed we will then write any motion programs required to complete the testing. Now we are ready to begin.
Good testing includes proper documentation. Every laser applications study includes a full written report that details each set of laser parameters used on every sample. Each sample is numbered to correlate with the written data. A comment section is provided so discussion can take place when the test data is returned to you.  As an option we can also produce a short video  that visually details the set up and processing with commentary on the results of the completed testing.  If your application requires microscope evaluation and measurements we can provide that too. Once the testing has been completed all the samples and the full report are packaged up and sent to you. In many cases the report and images are sent electronically ahead of the hard copy.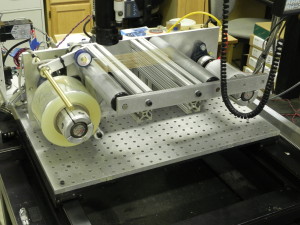 Call or contact us today for immediate answers to your processing questions (715) 617-3106