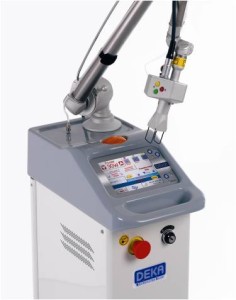 If you are having troubles with your Deka Medical, Dental or Veterinary laser we can help! NLC Laser has certified service engineers strategically located through out the United States, Canada and Mexico providing immediate service when you need it. The NLC Laser team covers every aspect of your Deka Medical Laser Service including, laser tube regas, replacement laser tube optics, catalyst and eletrodes, electronic trouble shooting, optical alignment, power calibration, replacement bases and damaged glass repair.
It's understood that every day your Deka Medical Laser is down your loosing money! In most instances NLC Laser has service engineers within driving distance. They can be at your site within a day or two and in some cases the same day.  The goal is to get you back up and running without forcing you into an expensive service contract. We provide service only when your Deka Laser is having problems and you need help. You run a busy practice and it may not be convenient to call us during normal working hours. To make it easier just call our answer service 24/7 at (715) 617-3106. If no one is available leave a message and you will be called back within sixty minutes.
Our Deka Medical Laser Service Makes Your Laser Like New
One of the most common problems we see with Deka Lasers is low power output.  Over time and with use the laser gases degrade and no longer produce the power they should. This is fixed by sending the laser tube to our facility in Wisconsin. When we receive it we will do a complete inspection of the optics, electrodes and internal catalyst. Then collect what we call, before regas power levels compared to the tube current. Your tube is then opened, checked for leaks and the old gases are removed.  Finaly the tube is backfilled with a proprietary mixture of gases and then tested. The results are dramatic and can be seen by viewing this sample data sheet.